* The Adventurer's club is currently on pause for the moment. We hope to begin again soon!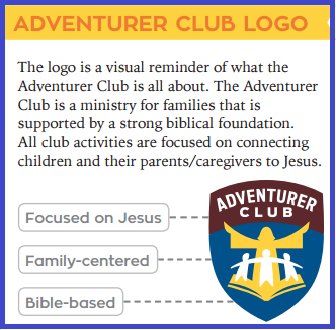 Philosophy of Adventurers
The Adventurer Club was created to give children an opportunity to belong to an organized peer group. To join, children are invited to participate in various activities which will improve their social skills. From the time children start school until they reach puberty, their need to be with and be accepted by their peer group is increasingly strong.
The Adventurer Club involves children in Grades 1-4 and their parents. The programming and planning for Adventurers should be simple and short, but creative. Parental involvement provides opportunities for parents to participate in the learning experience.
One of the Adventurer Club objectives is to provide a meaningful and exciting experience as the children look forward with anticipation to some day being Pathfinders.
What is the Adventurer curriculum designed to accomplish?
Children will, at their own level, commit their hearts and lives to Jesus Christ. Children will gain a positive attitude toward the benefits, joys, and responsibilities of living a Christian life. Children will acquire the habits, skills and knowledge needed to live for Jesus today. Parents and other primary care-givers will become more confident and effective as co-laborers with Christ for their children.
Objectives
The Adventurer Club provides fun and creative ways for children.
to develop a Christ-like character; to experience the joy and satisfaction of doing things well; to express their love for Jesus in a natural way; to learn good sportsmanship and strengthen their ability to get along with others; to discover their God-given abilities and to know how to use them to benefit self and serve others, to improve their understanding of what makes families strong.